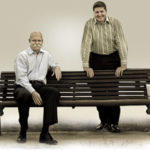 Happy Father's Day to all the great dads out there.
Management succession should also be an integral component of most, if not all, succession plans.  The business has to be able to continue to operate, with a strong management team, when you are no longer operating the business which can take planning and forethought to accomplish this team transition.  In fact, your management succession plan may often take more than one person to fill your shoes.  In the hockey context, this plan would be like adding bench strength to your management team.
I look to my favourite NHL team, the Vancouver Canucks as an example of adding bench strength.  They currently are working towards rebuilding the team.  We will see what innovative thoughts the new management will bring to the team. We need to add some support for our star Sedin's by adding some new defensive strength, size and some stronger offensive (and younger) capabilities to the Canucks so they could perform better as a team next season.
Lately, have you considered your management team to see if they are have the right characteristics and skills to strengthen your family business's management capabilities?  Assess the team and see if they will facilitate your succession plan for management.
Learn, think, apply!