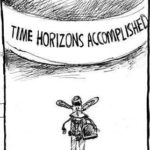 Building a business and running a business can be considered as two separate objectives.  Running a business can be all consuming, taking all of the available time in your day.  An integral part of succession planning's goal is to build a business and pass on this business.  The two objectives are not mutually exclusive.  However, you have to devote some time every day (regularly) to the advancement of your succession plan.
The most valuable time that you, as the owner, could spend in a day is to plan for your business.  A recent chat with a well seasoned and knowledgeable business person gave me me pause for reflection.  He suggested in planning, not only do you look out for the next 10 to 15 years, which is the time remaining in my own productive business career, but you have to look out for 1, if not 2 more generations.  Think about what you are setting in place for your grandchildren.  This will give allow you to move well beyond the daily obligations, commitments and the immediacy of the moment that your business often demands.
Looking out this longer duration, gives you the ability to think well beyond the daily "busyness" of your business.  This can help you focus and consider the longevity and strategic advantage of your business and how you could maintain this advantage.
Try this strategy sometime, then try to make it a habit through regular reflective time.
Learn, think, apply!